2020 Annual Session - Virtual Convention July 20 - July 23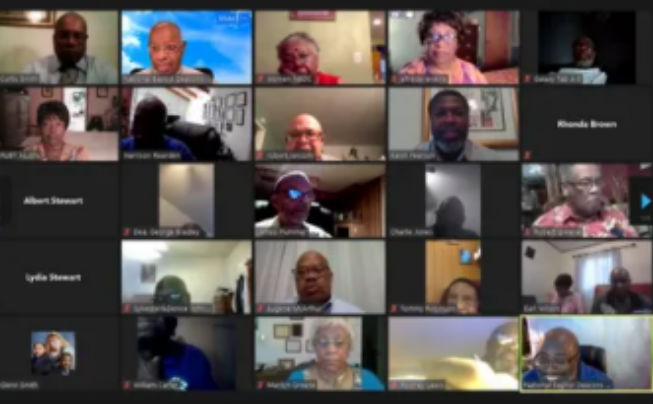 Hosted By: Zoom Meeting

The 2020 Annual Session will be hosted by the National Baptist Deacons Convention.
This will be a virtual session held on the Zoom Meeting and Facebook Platforms
For a better experience, please go to zoom.us and create an account.

Simulcast on Facebook

Like us at https://www.facebook.com/nbdcoa and https://www.facebook.com/NBDCYouthAndYoungAdultDepartments

YouTube will be available for rebroadcast.
The Convention Week
Monday, July 20, 2020


Opening Session: 6:00 PM
Women's Auxiliary Board Meeting: 6:15 PM
Deacons' Get Together: 6:15 PM
Parent Body Executive Board Meeting: 7:15 PM
Youth and Young Adult Workshops: 8:00-9:30 PM
Tuesday, July 21, 2020
Fieldworkers: 6:00 PM
Committee Meetings: 6:00 PM
Women's Auxiliary President's Address: 7:00-7:30 PM
Youth and Young Adult Workshops: 8:00-9:30 PM
Wednesday, July 22, 2020
Nominating Committees' Report: 6:00 PM
Voting Starts: 6:00 PM
Parent Body President's Address: 7:00-7:30 PM
Youth and Young Adult Graduation Recognition, Fellowship & Wrap-Up (Tribute for Ethel Harris Youth Rally): 8:00-9:30 PM
Thursday, July 23, 2020
General Session: 6:00-7:00 PM

Final Reports
Installation of Officers

Joint Session Panel Discussion on Social Justice (A Young Adult Department Initiative): 7:15-8:30 PM

Title: "Call & Response to a Community in Crisis" (CRCC)

Closing: 8:30 PM

Part II: "Deeper Than The Surface": 8:30-9:30 PM
Downloads
2019 A WEEK AT THE CONVENTION
NBDC 2020 ANNUAL SESSION FLYER